The MAC client can misbehave after an OS upgrade, for those situations we recommend performing a configuration reset to be done. This can also be done before installing a new version of the client. Below are the steps.
To reset and save Mac client cache:
Shutdown the MAC client.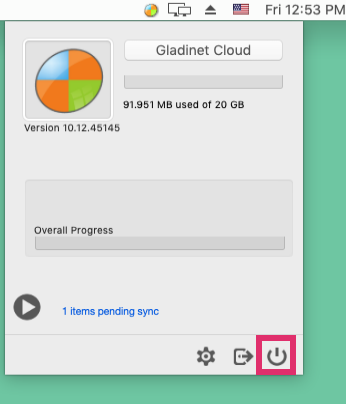 2. Go to user's $HOME folder (Key Shorcut: Cmd+Shift+H in Finder) and rename folder named 'gladinet' to 'gladinet.bak. The picture shows the two names as reference, but at the end, the only one left should be the one with bak at the end.

3. Restart Mac Client
To reset passwords settings:
1. Open the Terminal (Key Shorcut: Cmd+ Space).
2. Type: "defaults domains"

You will notice the name Gladinet as the first domain. Select this name and then copy it to use it in the next command.
3. Type: "defaults delete GLADINET_DOMAIN_NAME"

This will erase all user and password settings from the machine.