If your cloud drive does not mount properly on Mac OSX and gives you an error similar to the following image, the most likely reason is High Sierra's increased security protocols.

First, make sure the Mac Client is the highest version that is available for your CentreStack. Mac Client support for the High Sierra OS (OSX 10.13.3) was added back in November of 2017 (with Mac Client version 8.11.39942). If your version is lower than the one released in November, then the solution is to simply update the Mac Client.
The proper way to get the Mac Client that is designed for your CentreStack is to sign in on the web portal, then access the downloads page from the user menu on the top-right of the screen.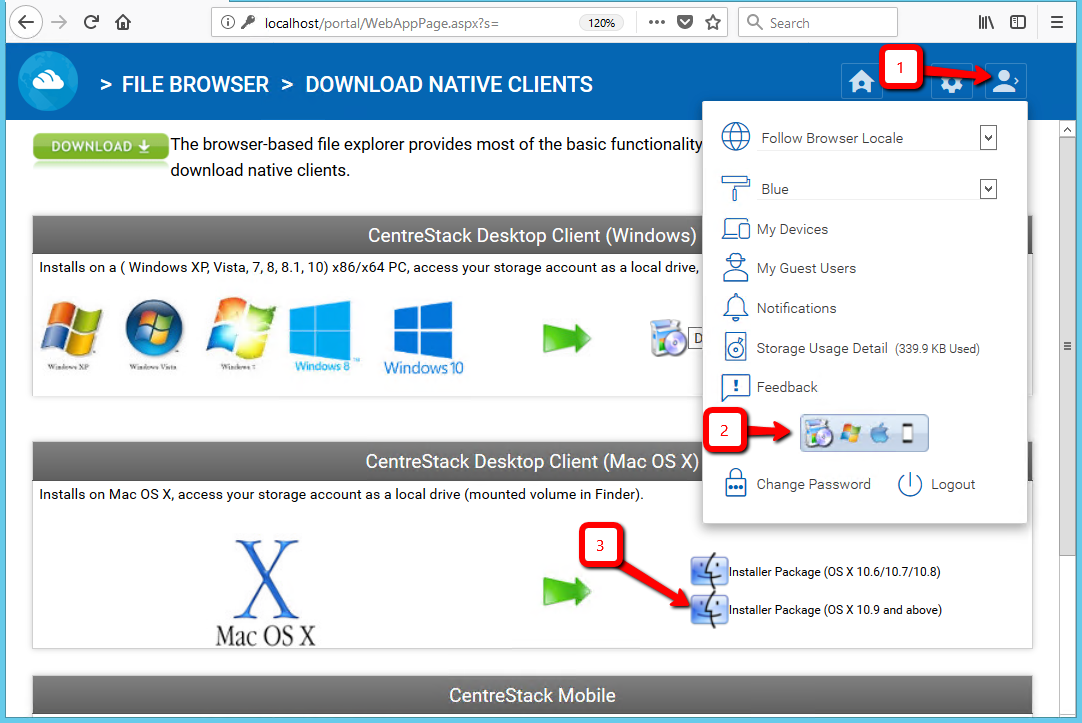 If you are getting the error right after the installation of the Mac Client, the FUSE error may go away after a reboot of the computer. Simply reboot the Mac and try to open the Cloud Drive again.
If rebooting doesn't solve the issue, then you should check the System Preferences->Security & Privacy on your Mac. Make sure that anything labeled with the words "Cloud Drive", "Gladinet", and/or "FUSE" are allowed to run without restrictions. FUSE (Filesystem in Userspace) is an open-source software interface that extends the file handling capabilities of the Mac OS, with support for NTFS and many other file systems. The CentreStack Mac Client relies on FUSE to mount the cloud drive among other things.
Some users have also reported FUSE errors while using a Mac through a remote session. This happens because remote session software emulates mouse-clicks/keyboard interactions, and the High Sierra OS blocks such emulated user-interactions. You need to make sure that the word "Allow" appears next to any items relating to emulation software gestures and remote sessions in the System Preferences->Security & Privacy on your Mac.
Finally, if the FUSE errors persist, please go to your Mac's Applications->Utilities->Console and click on the system.log. Apply a filter on the top-right portion of the Console window for the word "gladinet" (without quotes). Then, copy-and-paste the entire text into a plain text editor and save it as a text file. Email this log file along with full-screen screenshots of the errors to support@gladinet.com to open a support ticket.