Have you noticed that your CentreStack license counts are increasing and wondered why? Have you taken a look at a recent CentreStack bill and wondered about the reasons for the increases? In this article, we'll answer three questions:
Why are license counts increased automatically?
How are license counts increased automatically?
Can these behaviors be disabled or controlled?
Why are license counts increased automatically?
To facilitate growth and optimize the user experience.
Immediate Service Delivery
Cloud services are designed for availability and scale which means that most service providers must be able to respond to resource requests in an immediate and dynamic way. CentreStack is therefore designed to enable the automatic provisioning of new users so they can start using the platform immediately. Without auto-growth, administrators would have to over provision the system to prevent users from being blocked by provisioning overheads.
Manage Increase Frequency
There are thousands of CentreStack partners with millions of licenses and daily growth. Automating license increase management makes it easier to grow without creating provisioning bottlenecks. However, this behavior can be disabled with the following settings at the tenant or cluster levels:
Tenant Level Setting

Cluster Level Setting

So why aren't license counts decreased automatically?
It would be easy to believe that the asymmetry between automatic growth and manual reduction simply reflects a natural bias towards growth, as a natural extension of profit motives; however, this approach actually provides significant customer benefits with minimal tradeoff.
These benefits include:
Discovering enhancement opportunities
First of all, license reductions are a rare occurrence so there's not a lot of overhead in manual management and most customers never get to this question. In exchange, we can take advantage of an excellent opportunity to get feedback about CentreStack and its surrounding market. In fact, this has been one of the primary catalysts for product enhancements.
Maximizing service delivery
CentreStack licenses are paid in advance. So, when a license reduction request is made, there are usually several days or weeks of time remaining before the licenses should be retired. Processing these requests manually allows us to discover retirement preferences. Should we cancel the licenses immediately or delay cancellation for the remainder of the current billing cycle.
Managing promotional and group discounts
In rare occasions, the cancellation request may be coming from a customer that is entitled to group discounts or other promotional benefits. Their associated license reduction and growth heuristics may not be a part of the automated billing system so a manual audit is required to make sure that any CentreStack obligations from the terms of associated agreements have been and will continue to be met.
What causes automatic increases in license counts?
Before we can discuss this, we need to review how licensing works in CentreStack. To simplify, let's just focus on licensing a self-hosted deployment. There are three levels of licensing for this:
Licenses assigned to your partner account.
Licenses assigned to your self-hosted cluster.
Licenses assigned to each tenant in your cluster.
For example, in the image below you can see a partner account with two clusters. There are 50 licenses assigned to the account with 32 assigned to the first cluster and 3 to the second, leaving 15 licenses unused: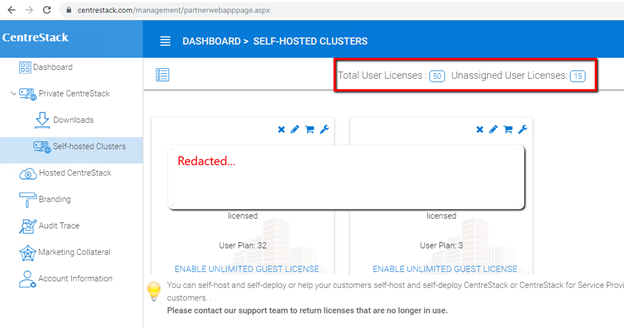 Please note that you will be charged for the total number of user licenses in your account whether they have been allocated or not.
In the following image you can see example of a cluster which has three tenants that are consuming a total of 12 licenses even though only 5 have actually been assigned to users:

So, you can of course add licenses manually by taking any of the following actions:
Increase the number of licenses assigned to your cluster in the partner portal.
Increase the number of licenses assigned to your tenants in the cluster manager.
Add more users to a tenant
However, license counts can also increase automatically when:
You consume more guest users than you have available in your pool.
The file server agent synchronizes permissions and users from a file share.
Let's take a brief look at how the automatic increases might happen.
Consuming too many guest users
As a rule, 3 guest users are allocated for each paid user in a self-hosted environment. So if you have a tenant that has been assigned 3 users, the guest user report will show a quota of 9 users:

Now these guest users are not consumed by read-only shares. They are reserved for use by third parties that have been granted read-write content to documents or folders shared from CentreStack. However, once you've exceeded the quota of 9 users, the tenant plan will be increased. This may or may not result in a corresponding increase in the number of licenses that have been assigned to the cluster and to the partner account overall which would cause an increase in billing.
Synchronizing permissions and users from a file share
Perhaps the most common cause for automatic increases in license counts comes from file shares that have been migrated to CentreStack with the file server agent. That process often results in the creation of CentreStack team folders that will automatically synchronize permissions and migrate users associated with the network file share. This means that license counts can increase based on group membership and user activity on the local file server that is being synchronized.
However, this behavior can be controlled so you only import the users who are actually using CentreStack instead of all members of each group that has permissions to access the migrated share. Do this as follows:
First, navigate to the Team Folder settings page and enable the checkbox highlighted below:

This will narrow the list of imported users to those that have been granted access by the CentreStack admin. We then need to define who those users are on the 'Collaborators' tab in the same section. For example, in the image below we might want to remote the 'All Ad Users' group and leave 'u1 test' as the only user that has been granted access. The combination of these two settings would prevent any other user from being automatically migrated during permission synchronization.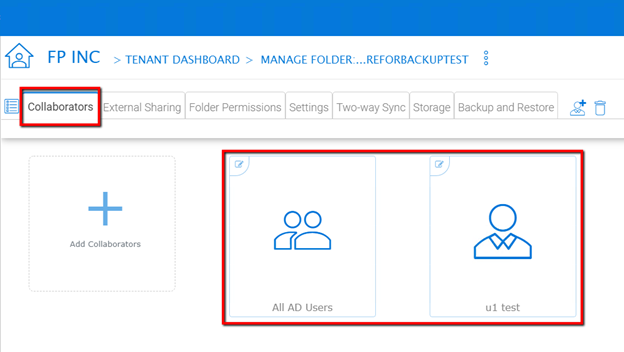 Managing and Reducing License Counts
If you do find yourself in a situation where you need to reduce your license counts, you may need to take the following steps:
Delete unneeded users from the tenant:
Reduce tenant plans in the cluster. For example, in this tenant, there are 3 active users which cannot be removed but the other four can be removed by changing the '4' to a 0:
Reduce the number of licenses assigned to the cluster by editing the cluster plan and reducing the license count:
Send us a request to remove any unused licenses from the partner portal.
Keep in mind that licenses are considered to be in use as long as they are assigned to a cluster. So, these steps may be required before we can reduce the partner license count.