Are you looking for a simpler corporate file sharing solution? Would you like to enhance productivity with a secure file sharing service that provides a remote user experience that is just as easy as access on-premises? What if you could provide remote file server access via locally mapped drives that point to network shares without having to deal with the normal headaches of a VPN? CentreStack can solve all these problems with secure file sharing for business that provides the option to keep data on existing Windows File Servers and the corporate file shares they publish.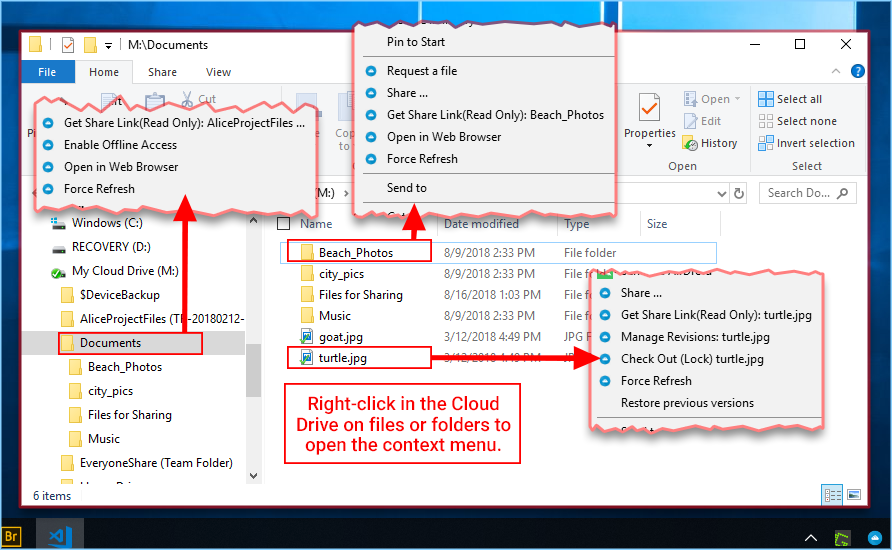 But why bother? Why not just use the "free" services from Dropbox, or if you're looking for secure file sharing for business, perhaps choose something like SharePoint Online or OneDrive? And what about the traditional option of creating a virtual private network (VPN) for file sharing since this is usually considered the safest approach?
VPNs are fine when they're working but connection issues are common and difficult to troubleshoot with regular complaints about things like:
The VPN connection being rejected.
The acceptance of an unauthorized connection.
The inability to reach locations that lie beyond the VPN server.
The inability to establish a tunnel.
Consequently, VPN File Sharing does not tend to lend itself to the increasing needs for worker productivity. But since cloud services are generally recognized as being easier to use, one has to wonder why anyone is still trying to connect to file servers with VPNs. Why haven't all corporate file shares been migrated to cloud file sharing solutions like SharePoint and OneDrive? Yes, I realize this sort of contradicts the earlier "why bother" question, but that's the point. Based on the challenges of using VPNs for remote access to traditional file servers, there must be some good reasons why so much data is still sitting on corporate file shares.
Indeed there are. Let's review 3 of the most common that we hear from our customers:
Lack of support for legacy applications and data.
Data protection, compliance or privacy concerns.
Costs associated with file share migration or user training.
Lack of support for legacy applications aka Why can't I migrate my file server to SharePoint?
Many file servers are still hosting files and databases for legacy applications which can't be hosted in public file sharing platforms built with object-based cloud storage. This often results in some data being migrated to the cloud while the rest remains on-premises, or an abandonment of any plans for cloud migration. With CentreStack, you can provide a unified view of content in the cloud and on-premises or just use it as a front end for private file sharing based on the existing corporate file shares and NTFS permissions. You definitely can't do that with SharePoint or Drobpox for Business.
Data protection, compliance or privacy concerns
And then there are the companies that need to maintain control of their data to maintain compliance. For example most companies in European countries like France and Germany have strict GDPR requirements that create preference to keep data in data centers within the respective countries. Similar scenarios exist in Canada or even California where new laws encourage self-hosted file sharing. For American companies, FINRA, HIPAA and other compliance requirements might make it easier for some companies to keep data on existing infrastructure that has already been certified.
Costs associated with file share migration and user training.
This is probably where some of the biggest problems lie. Let's pick on SharePoint for a moment. It can be a competent corporate file sharing solution if you're starting from scratch and build your workflows based on its paradigms, but things get complicated fast if you're trying to migrate from an existing set of file shares and NTFS permissions. Mark Alayev provides a great example of the kind of the impassioned pain that can result in his article, "OneDrive and SharePoint: A Tale of the Fallen File Gods". He outlines how Microsoft, the once and (we thought) future kings of file sharing have (as outlined in the quotes below) failed to provide a migration path for key file sharing features like:
The folder and permission structure.

"...

If you (want) to do a 1–1 Migration from File server you'll never succeed unless you make one big team site, one document library, and break permission inheritance. This is clunky and a visible crack in the SharePoint backend."
Mapped Network Drives.

"

...S is shared, H is home. Excel references it, Word uses it and it happens at login. SharePoint has partial support via WebDAV, but no offline access and is not recommended by Microsoft. OneDrive over rides all logic and appears as a magic icon on your file explorer, which is a shortcut to a folder. Google Drive on the other hand creates a G: drive when you use their file sync tool, arg!"
Recycle Bin.

"

Honestly the first two items would save the world and this might be related to the SharePoint backend, but once you face this, you will never be able to unsee it. As users tend to accidentally do things, such as delete folders, IT staff tend to have to restore things. But you can't easily! It flattened out the restructure and shows you a few hundred items at a time. We've had 50,000 items lost and no easy way of restoring it. No top level folders you can just restore. In fact Powershell scripts can attempt to automate it, at a PAINFULLY SLOW rate. No worries I'll call Microsoft, raise a ticket and there is a back door channel that will restore it within 48–72 hours."
OneDrive or Office Upload Center?

"

If things weren't clear enough before, you can sometimes synchronize items via OneDrive other times via Office Upload Center. Items from office 365 productivity suite are uploaded via that tool, and troubleshooting steps recommend to clear the cache there. That tends to fix it, unfortunately. Another layer of complexity. But performance is also a matter of perception. There is no LAN sync option for a tool designed to replace a LAN server. It also is the 2nd most requested feature on the OneDrive uservoice since 2015, with no response for 4 years from Microsoft."
So there's a certain tension between the need for increased productivity through a simpler cloud file sharing platform and the need to maintain existing infrastructure for compatibility with legacy applications, data privacy or compliance.
CentreStack resolves this tension and all the issues identified above turning your Windows Server into a private file sharing server that enables secure file sharing with clients and simplified remote access to corporate file shares. And you have the option to either keep all your data on-premises, or maintain a unified view of files and folders stored in a more public file sharing solution. If you feel like you're stuck somewhere between your VPN and the cloud, please schedule a demo so we can show you why CentreStack is the best way to provide secure remote access to your corporate file shares!