If you are having issues with permissions on Team Folders, this article may help you to understand how permissions work in CentreStack, and may help you to diagnose some problems.
Team Folders are folders that allow the users under a Tenant to collaborate on files or documents. A Tenant is a simply an organizational unit within CentreStack that can be used to represent a Company or a Group of users.
Users in CentreStack can be created from scratch using CentreStack's web portal. Such users are referred to as Native Users. Users can also be imported from Active Directory, or can be connected to CentreStack through what is called a Proxy User. For simplification, both imported Active Directory users or Proxied AD users are referred to as AD users in the flowchart below.
CentreStack goes through several access checks before granting a user access to a Team Folder. This process varies depending on your particular server setup, type of storage, etc.
Please note that the Collaborators is a simple check for access or no access. If the Collaborators tab is empty, then nobody will be able to enter the folder.
Read, Write, List, Update, and Share permissions are defined under the Team Folder's Folder Permissions tab. Unlike the Collaborators tab, if this tab is empty, all the Collaborators will be granted full-access. However, if you define at least one person or group here, then the permissions will be exclusive in nature. In other words, ONLY the entities present in the Folder Permissions tab will have access.
Furthermore, since the Collaborators access check comes before the Folder Permissions check, you need to make sure the entities defined under the Folder Permissions are defined either directly or indirectly (through a group or organizational unit) under the Collaborators tab.
 This flowchart may help you to understand how the process works and to diagnose/troubleshoot access problems related to permissions on Team Folders.
---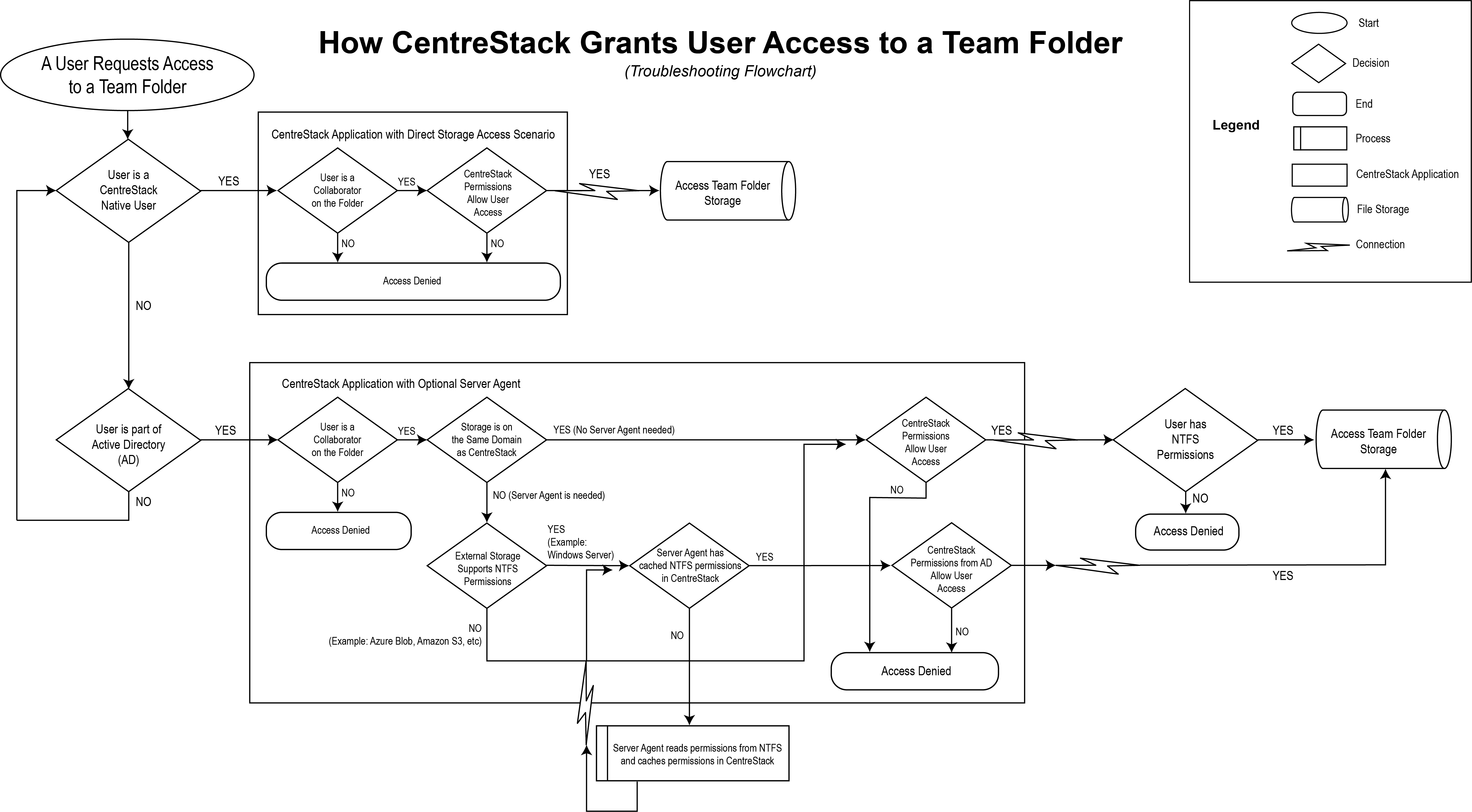 ---
If you have any questions, please don't hesitate to contact ticket@gladinet.com.