If your 30 days trial of CentreStack has expired, you will see the following screen: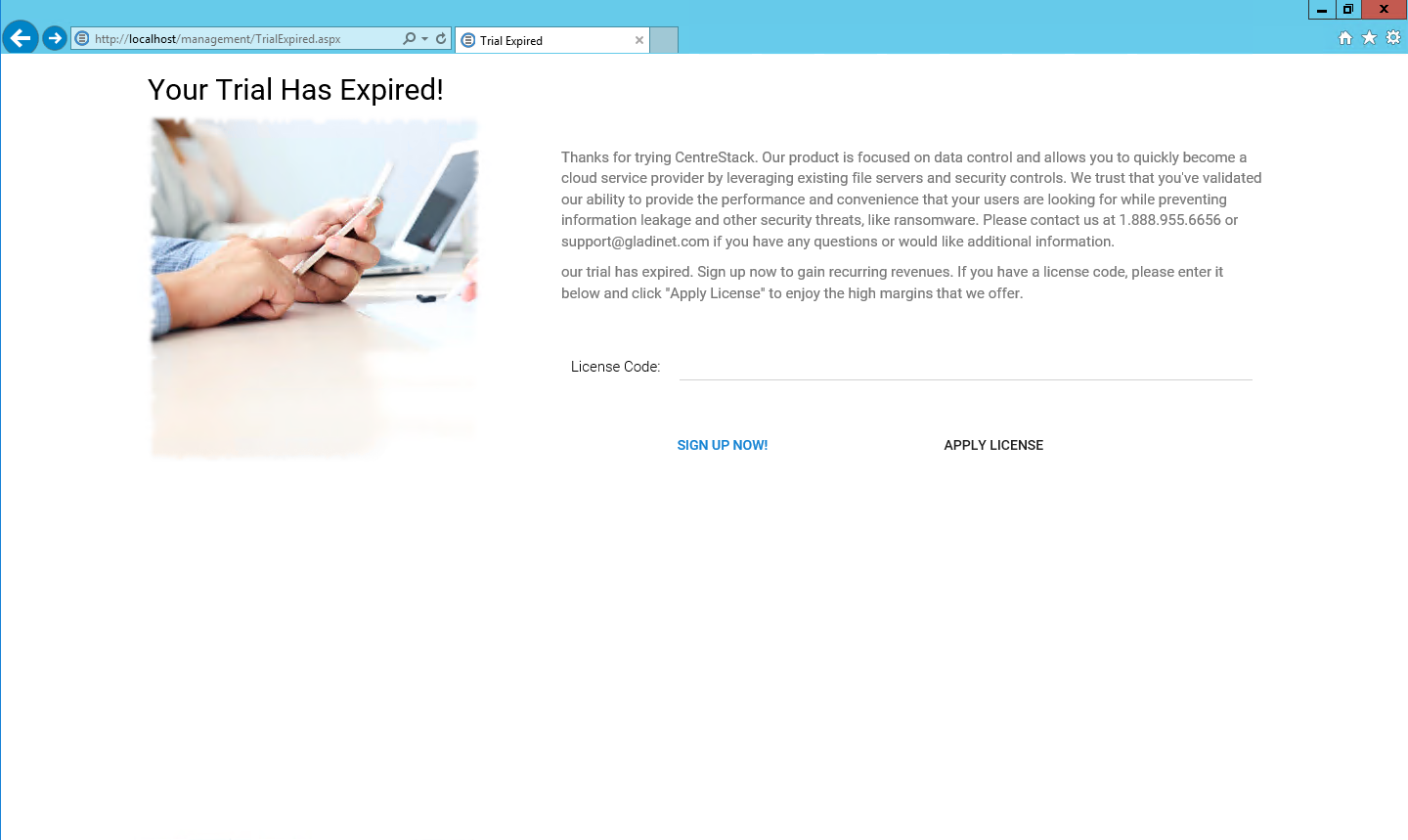 Hopefully you've enjoyed your trial and found that our products meet your needs. If you would like to continue using our products, please follow these steps to purchase and apply user licenses to your Cluster installation:
Go to http://www.centrestack.com and log in with your partner credentials. If you don't have a partner account, you can register for free here: https://www.centrestack.com/management/partnerregister.aspx

Once you are in the Partner Portal, click on Private CentreStack->Self-Hosted Clusters.


If you already have Unassigned User Licenses, click on the Register a Cluster button. Otherwise, click on the Purchase Recurring Licenses button first (the shopping cart icon) and then return to this page later to proceed with the cluster registration process.




If your cluster was set up with an external URL, click on the Register a Cluster button and simply fill out the form and you will be done.




If your had not set up an external URL, then we will need to register the cluster based on its Cluster ID. The Cluster ID is normally shown on the tenant dashboard of a licensed installation. However, if your licensed has already expired, you will not be able to see the tenant dashboard at all and will instead be redirected to the TrialExpired.aspx page shown above.

In order to retrieve your Cluster ID at this point, you will need to manually change the URL of your browser from .../management/TrialExpired.aspx to .../portal/WebAppPage.aspx. This will cause a redirect to the GCEPartnerAccount.aspx page and the Cluster ID will be visible as a cid on the querystring. Copy all the characters after "cid=" and the first ampersand character ("&") of the full URL.




Now you can return to the Partner Portal and register the Cluster with the Cluster ID. Click on the "My cluster cannot be accessed externally" button on the Register a Cluster page.




Paste the Cluster ID from your clipboard and complete the rest of the registration form.


After clicking on the Register button you will be redirected to the Self-Hosted Clusters page. Your Cluster is now licensed and ready to go. The next time you log in on your Cluster's web portal, you will be automatically redirected to the Cluster Manager interface.