In the Centrestack web portal there are 2 ways to share a file to an external user:
With a public link that anyone can access but not edit.
By specifically inviting a person by email address. If they aren't already a user they become a guest user and can download and look at the file that way.
However, Android applications often want to share information between them and that makes using either of those methods clunky.

Now, if you want to attach an image or document from Centrestack to an email or post a photo to your company Facebook account you can with the new option: Share via.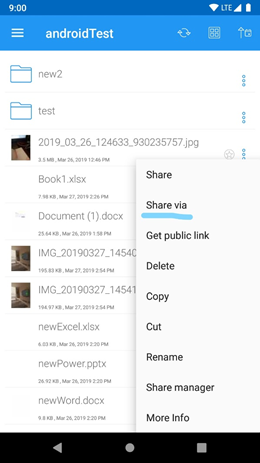 This option is available in the directory listing by clicking on the more options button (3 vertical dots) or in the File Preview itself.
Just click share via and the Android system will show you all the apps that can use that type of file once it is downloaded to the cache. Once you finish the share action the file will be deleted from the cache so no worries about disk space.