Client Cache locations:
Windows Client: C:\Users\(username)\AppData\Local\gteamclient\cache
Mac Client: $HOME / gladinet/ <login email> / filesys_cache
When a Mac/Windows client is online and able to communicate with CentreStack and a device wipe command is initiated from CentreStack, the cache directory is wiped, and the signed-in user gets signed out.
In the following example, the cache directory is populated with cached files recently accessed by the signed-in user under the gteamclient cache directory.
Sign in as a Tenant Administrator, Cluster Administrator, or a user that has been delegated such permissions. From the management Dashboard, locate the user whose device is to be wiped.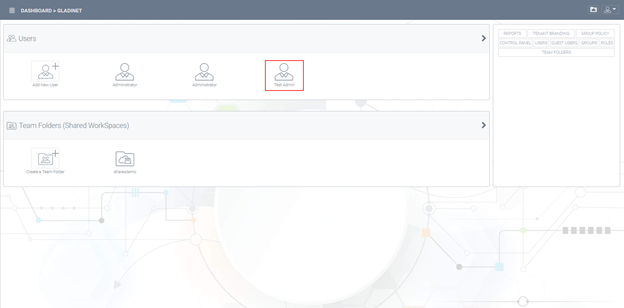 From the user menu, navigate to the Devices tab and locate the eraser icon (

) on the device that is to be wiped.
A confirmation dialogue will appear under the URL bar. Select OK to confirm and once the device can communicate with the CentreStack instance, the user will be signed out and the local cache will be cleared from the cache directory.