Audit trace on Windows client and Server Agent provides basic history information (Like a blackbox) on what happened to the application in a summary level. It provides the first level of information when it comes to troubleshooting issues.
There are several ways to collect audit trace
. Collect Audit Trace DB files directly
On Windows Client, go to C:\Users\<windows login id>\AppData\Local\gteamclient\logging
On Server Agent, go to C:\ProgramData\gteamclient\logging
zip the folder
Notice:
The folder is hidden. Need to enable Windows explorer to view hidden files/folders
. Collect Audit Trace from management console
Go to Audit Trace
Change the max trace to show, if needed.
Click Query
Click 'Copy to Clipboard'. Paste it to notepad and save it. Send the file to us.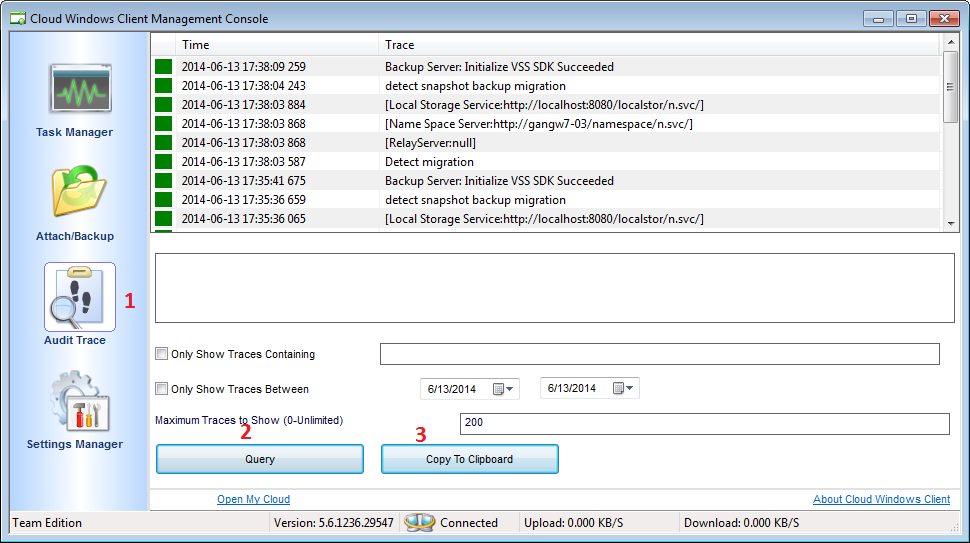 . Collect Audit Trace from web:
In latest release, cluster admin/tenant admin can also query the audit trace from web portal. See here for instructions.